Author: Nick Rankin
Created: 26-07-2013 08:35
Modified: 06-06-2020 13:01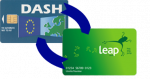 In 2011, an integrated ticketing system, known as Leap was introduced into Ireland. The "Leap Card", a RFID enabled chargeable card allows customers to pay their fares for multiple different transport operations, as well as receiving a discount for using the service.
The Leap cards' initial launch was for the most part a success, largely due to the fact both CIE (Dublin Bus, Iarnrod Eireann and Bus Eireann) as well as Veolia (Luas) agreed to implement the system, providing more flexibility for the commuter and transport user alike. Certain transport operations were slower to implement Leap ticketing support, however, the system was widely used and appreciated during the launch period, largely compared to the city of London's Oyster card at the time.
Interestingly, the idea of integrated ticketing in Ireland is not new! In 1994, Telecom Eireann in conjunction with CIE (Dublin Bus), Irish Car Parks Ltd and National Toll roads together trialled an integrated ticketing system, known as The Gaudi (Generalised and Advanced Urban Innovations) Project. The Gaudi project, a European Community (now European Union) programme, aimed to improve management and the improvement of urban mobility.
Read more...