A History of Telecom/Eircom phoneboxes
---

A picture showing Irelands First Public Callbox appearing on the 1084 Call Box Callcard
Back in the nineties before the popularization of mobile phones, every village, shopping centre, public spaces typically had one or more public telephones. In fact, public telephones were so popular, there were often queues of people wanting to use them! The first public call box was installed in Dublin in 1925. Move on 63 years, which saw the introduction of Telecom Eireann Callcards in the year 1988, with the first trial commencing in Dublin. Read more about the Callcard trials here!
Throughout the years Telecom Eireann rolled out many different phonebox styles and this article is going to discuss the three most common types of phonebooth you were likely to come across if you were to use a cardphone. Do you have any photos of Irish phoneboxes you would like to share with us? If you do why not send them on? :) .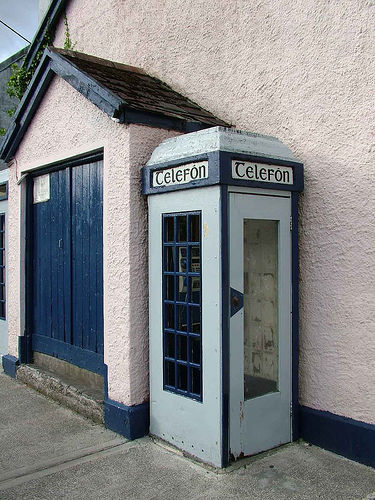 (Credits: galwaynews.ie)
These phone boxes were the older type constructed using concrete and wood. While these boxes were more visually appleasing within the landscape than some of the later ones the maintenance costs required for each box were known to be considerably larger.
As a result not many of these phoneboxes did remain, and many remaining ones were removed with a modern one replacing it.
The phonebox pictured here has the classic Telefón branding on top, suggesting that very few changes were made to this particular box over the years. A Eircom dual Card/Coin phone can be seen installed through the hatched window.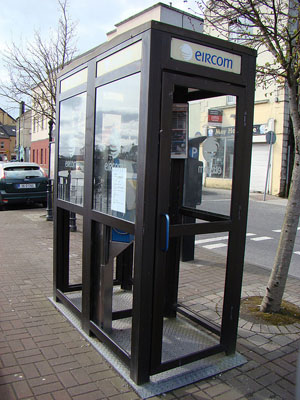 (Credits: Cian Ginty/Flickr)
These phoneboxes (pictured right) were intruduced in the mid '80s to early '90s, to replace the older phoneboxes as shown above or to construct newer booths for their customers. These phoneboxes regularly came in side by side configurations, with two phones on opposite sites to each other.
This configuration was later used to separate the coin phones and cardphones, when Telecom Eireann introduced the chipped Callcards in the 1990s. Initially Callcard users could only use particular CallCard booths (which were marked with a yellow placard stating "Cardphone - Calls Without Coins"). Likewise, coin phone user's could only use payphones marked with a white placard stating "Coinphone".
This particular example (right) has general Eircom placards installed, along with Eircom dual card and coin phones.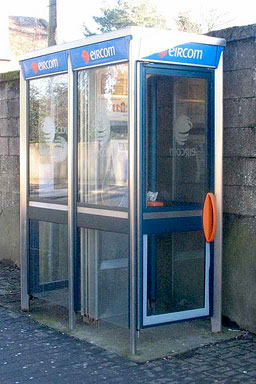 (Credits: A Kilcullen Diary)
These phonebooths were the final ones to be installed countrywide by Eircom. This rollout was mainly performed after Telecom Eireanns rebranding to Eircom, after being made private.
These phonebooths were called the "New Kiosk" (see the New Kiosk CallCard!) and were mostly all fitted with the newer Eircom coin and card phones. A gradual roll out of these new kiosks took place around 1999 to 2001. Most of the previous kiosks (pictured above) were replaced with this one.
These kiosks boasted "Better lighting and notices", "better views", "shelf for convenience" and "greater visibility for the customer".
While many of these kiosks have been removed at the time of writing (April 2013), many of these kiosks still exist in city centres and local villages.
It was in the year 2009, Eircom decided to remove almost half of all phoneboxes that exist in Ireland. It is quite likely the running costs and maintenance of these boxes is quite large and due to lack of usage nowadays probably has contributed largely to this fact. It is quite likely the days of the remaining phoneboxes are also numbered, and in a few years time, wonder will there be many left?..
---