×
Discussion of phonecards from other countries should be placed here. This includes chip based ones and prepaid code cards.
Foreign and BT cards
nick

Administrator
5 years 9 months ago
-
5 years 9 months ago
#257
by

nick
patrick wrote: hi.. im just wondering about a callcard I bought years ago.. I think only 1000 were made. I bought it in the imperial hotel cork at a collectors fair. the card was made for that fair its a bt card with a car on it and Pepsi. does anybody know is it worth anything?++
Hi Patrick,
Welcome to the Irish Callcards forums
. Unfortunately I don't know that much about the BT cards. Unfortunately interest in any Special BT - Irish phonecards is not as high as it is with the Telecom Eireann/Eircom cards.
Time and time again I have seen special BT phonecards for the Kilmainham fair, Cork Stamp Fair etc. going for less than €5 on ebay. The Royal Hospital Kilmainham Collectibles fair card produced by Telecom Eireann I have seen fetch €99 on ebay (1, 100 made).
Is your card similar to
this
one currently on ebay? If it is keep an eye on it and see if it sells for £7. I'll be honest though I doubt it will
..
Nick
Last Edit: 5 years 9 months ago by
nick
.
Please Log in or Create an account to join the conversation.
Deoraide

Fresh Boarder
5 years 9 months ago
#259
by

Deoraide
Hi there. I collect worldwide and am very interested in BT cards - especially chipcards. The problem is that I have a large collection and have most of the common cards already.
The value of phonecards has dropped drastically and you will only get €1 to €3 for a mint card now. As an indication, a few months ago, I purchased 7000+ worldwide good quality (some mint) cards for €170 delivered!!
Maybe you have something of interest to me.
Tom
Please Log in or Create an account to join the conversation.
Time to create page: 0.303 seconds
Random Callcard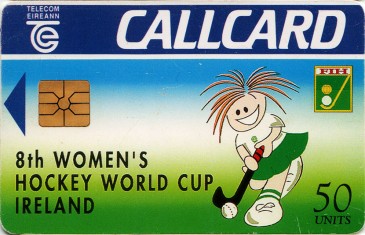 Card no: 1064
Units 50

This Callcard was issued to promote the 8th Women's Hockey World Cup which took place at UCD[...]

View Callcard Details