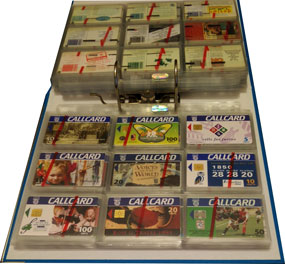 Welcome to my Callcard website. I collected these phonecards when I was younger and many I found in phone boxes/on the street and some I bought.
I gave up collecting Callcards over 10 years ago now, and only recently decided to root out my collection from the garage and scan them in for all to see.
While similar sites to this exist, most of them are very dated and the scans are of a very low resolution. No sites seem to even have a discussion forum for CallCards either. Between this and regarding a nostalgia discussion on Boards.ie where I posted Callcards and received a surprising response from people this site was born.
As you can imagine I have put many hours into this website. While I have enjoyed the project every step of the way I would always appreciate any donations be it Callcards or money.
Please check out the Help Out section if you want to donate either to me. Thanks :) .
Special thanks to The ShannonSide Callcard Collectors Club website whose information was used in the ordering and describing this collection.